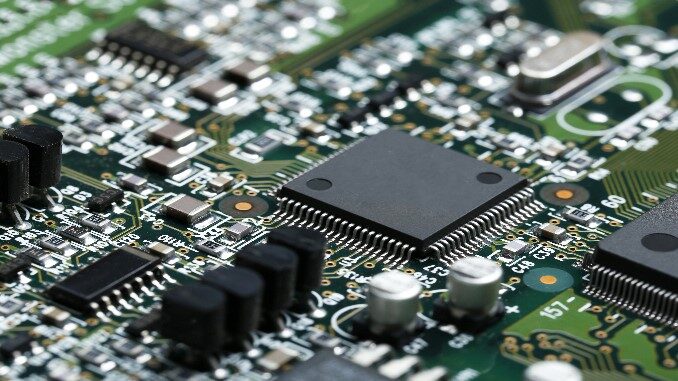 A printed circuit board (PCB) mechanically supports and electrically connects electronic components using conductive tracks, pads and other features etched from one or more sheet layers of copper laminated onto and/or between sheet layers of a non-conductive substrate.
Components are generally soldered onto the printed circuit board (PCB) to both electrically connect and mechanically fasten them to it.
Types of printed circuit board (PCB)
Single Layer PCB
Double Layer PCB
Multi Layer PCB
RIGID PCB
Flexible PCB
High frequency PCB
Aluminum Packed PCB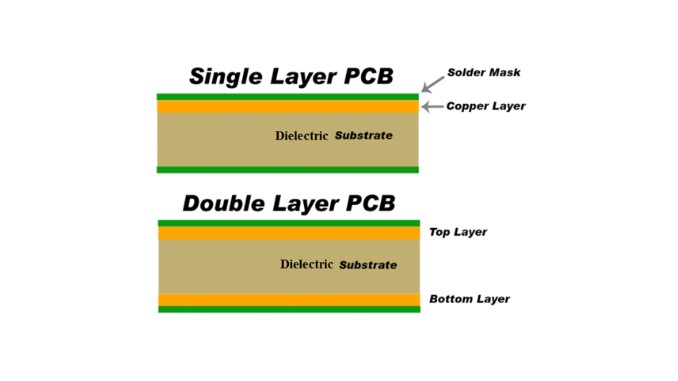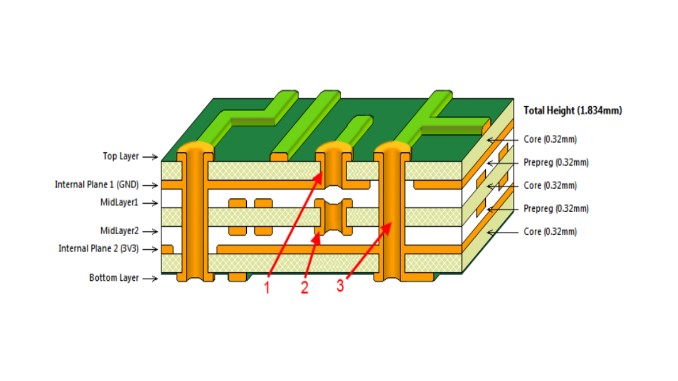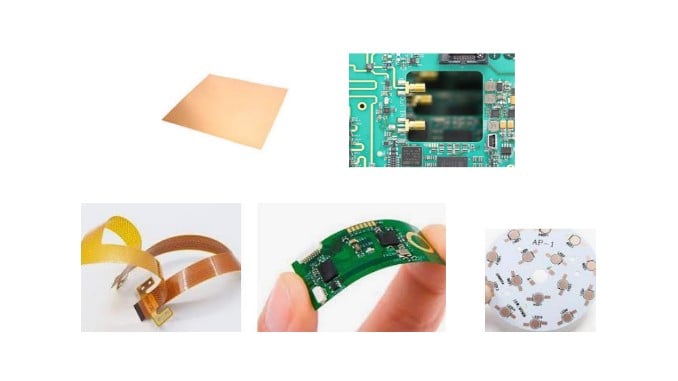 PCB Layers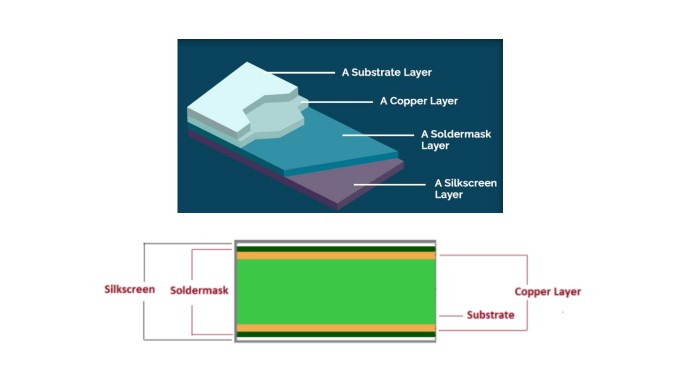 Substrate Layer
The substrate layer of any printed circuit board is usually made from fibreglass, which gives the board its rigid form. Generally speaking, the majority of boards will have this material for their substrate, with the exception of flexible PCBs, which are built on flexible plastic such as Kapton. Substrate PCB layers can also be made with other materials such as epoxies, however they lack the durability that FR4 (found in fibreglass) provides for a high quality board.
Copper Layer
The thickness of the copper layer on your printed circuit board will depend on the power the PCB needs to withstand.
Solder mask layer
Once the copper layer has been applied the solder mask l ayer is placed on top. This gives the printed circuit board its green color and is used to insulate the copper layer to avoid any contact with any other metal or elements of the board that could disrupt the copper traces.
Silkscreen layer
The silkscreen is mainly for the purpose of us humans to help us better understand the board and the functionality of different pins or LEDs, by adding letters, numbers and symbols to the board.
Characteristics of printed circuit board (PCB)
Through-hole Technology
Surface Mount Technology
Circuit properties of the PCB

Power and ground traces may need to be wider than signal traces.
In a multi-layer board one entire layer may be mostly solid copper to act as a ground plane for shielding and power return.

Materials
Copper thickness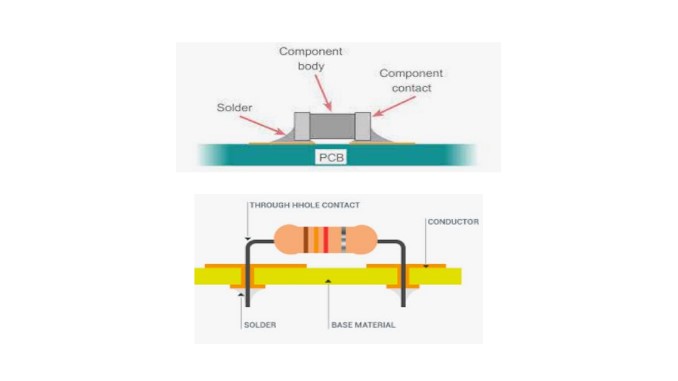 Types of Manufacturing Process
Subtractive
Additive
Semi-additive processes
Multilayer Manufacturing process
The Design
Printing the Design
Creating the Substrate
Printing the Inner Layers
Ultraviolet Light
Removing Unwanted Copper
Inspection
Laminating the Layers
Pressing the Layers
Drilling
Plating
Outer Layer Imaging
Plating
Solder Mask Application
Surface Finish
Testing
Key Steps in PCB Design Process
Schematic capture
Preparing the schematic for layout

Attaching package symbols (footprints)
Creating a netlist

Setting up the PCB design environment
Layout
Prepare for manufacture
Generating artwork (Gerber files) & drill files
Generating documentation
Submitting PCB file for fabrication check
Tools for printed circuit board (PCB) Design
Orcad Capture-CIS , Allegro
Altium
Pads (Power PCB)
SOLIDWORKS PCB
KiCad EDA
Ultiboard by National Instruments
DipTrace
Eagle( Easily Applicable Graphical Layout Editor) …
EasyEda. …
What are surface mount pads?
Pads used to mount surface mount components are called surface mount pads. These pads have the following features:
Pad which shows the copper area. This can be rectangle, round, square, or oblong.
Solder mask layer
Solder paste
Pad number (number of pads present for the component)
Also Read: Types Of IoT Sensors
What is Solder Mask?
Solder mask is a thin layer of polymer that is put on a circuit board to protect the copper from oxidation and shorts during operation. It also protects the printed circuit board (PCB) from environmental influences such as dust and several other contaminants that may lead to shorts in the long run.
It is due to the solder mask, which protects the copper circuits printed on the fiber glass core to prevent short circuits, soldering errors, etc. The color of the solder mask gives the board its appearance.
What is Bill of materials (BOM)?
A bill of materials (BOM) is a comprehensive inventory of the raw materials, assemblies, subassemblies, parts and components, as well as the quantities of each, needed to manufacture a product.
Item No
Component Name
Description
Qty
Manufacturing Part no
Order code
Price
Type
No of soldering Pads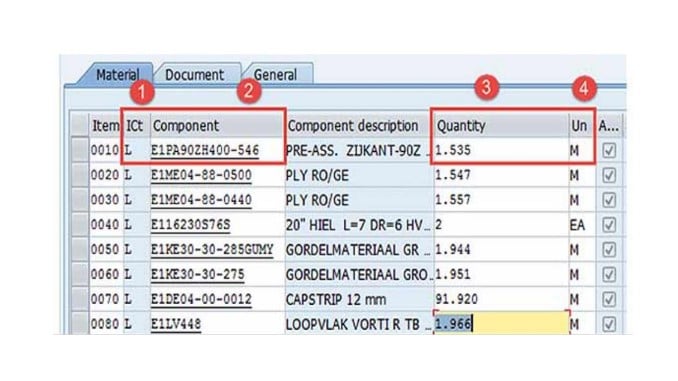 What is a Reference Designator?
A reference designator unambiguously identifies a component within an electrical schematic or on a printed circuit board. The reference designator usually consists of one or two letters followed by a number, e.g. R13, C1002.
What is Netlist ?
The netlist contains the electrical connections between the components on the circuit board, and is usually held in textual format (see EDIF). In printed circuit board production a netlist (generated from the production data) is used to carry out an electrical test (E-test) to find incorrect or missing connections.
Layers in Gerber
Global Layer
Top Layer
Bottom Layer
Silk screen Top
Silk Screen Bottom
Assembly TOP
Assembly Bottom
Inner Layer
Drill layer
What is Artwork ?
Artwork is basically a manufacturing tool used in fabricating printed wiring because it uniquely defines the pattern to be placed on the board. Artwork displays only those items that have to be generated as copper patterns in the manufacture of the printed circuit board (PCB). Therefore, the artwork will necessarily include solder pads, lands and conductors true to scale in respect of their dimensions, but shown at the scaled level.
Also Read: What Is Raspberry Pi And Sense HAT