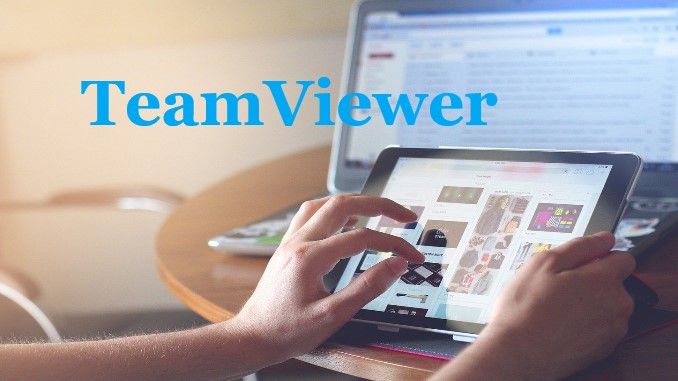 Hello, friends welcome to IoTGyaan, in this post we are going to tell you about what is TeamViewer?, how to use TeamViewer?, Advantages and Disadvantages of TeamViewer.
What Is TeamViewer?
TeamViewer is basically remote desktop software that shares your system (laptop/desktop) or online meetings, web conferencing, and transferring files between computers with another person in a mirror fashion.
So when you give your Team Viewer (TV) username and password, another person can access your machine, can see the screen that you can also see when they move the cursor (mouse pointer), you can see your cursor move your screen, it can do everything on your system and you can see it. When transferring files, Team Viewer will also show file transfer update, it is for security reasons so that no one will transfer/take virus or important information from your system.
The most important part is that as soon as you turn off your TV, the connection closes and no other person will be able to access your system until you restart the TV and give your password again. Note that the ID always remains the same, but the password is changed every time you close a TV connection (until you have selected a static password, if so, you have chosen to keep the same password so another person can reconnect if you restart your Team Viewer.)
You can also chat with TeamViewer while another person is accessing your screen, you can read the TV manual for this and other features.
It is also used in IT support companies that use it to support users remotely and help make configurations or troubleshoot problems. It saves a lot of time.
I have been using it for a few years now and have had very few problems.
I highly recommend using it.
Please note that my experience uses it for personal use and I will definitely use the mobile and Windows versions in the future.
You can remotely access an unlimited number of remote computers, it offers easy file transfer, it features Wake-on-LAN and many other features at no extra cost, a TeamViewer account with all your computers and contacts is available with a one-click fast connection.
TeamViewer Details:
Using TeamViewer, we can remotely access any PC and we just have to add the device we are signing in / accessing from as a trusted device.
Download Team Viewer, Install
Register
When signing in with this account, if you sign up with a new device, it will ask you to add this device to the list of trusted devices by sending a confirmation email to your signed-in email id.
Click the link in the confirmation email to add the device as a trusted device.
Now, log in on your new device and use the added computer for remote access.
You can add computers to your Team Viewer account with a password for each computer.
How to use TeamViewer?
First, you need at least two systems to use TeamViewer, and both require a team view to be installed.
If I connect to your system,
You must provide me with a TeamViewer ID and password. Then I can connect to the system using the login information.
Normally, the password changes each time you open TeamViewer (TV). Therefore, if I need to connect next time, you will need to give me the password again.
You can create a fixed password for TeamViewer so that I can use the password all the time (if the TV is on your system)
I can create a team viewer account and log in to it and connect to any system in the first step. and I can include the system in my account. And from anywhere I can access your system without having to ask for login information.
For examples,
Controlling Raspberry Pi through PC,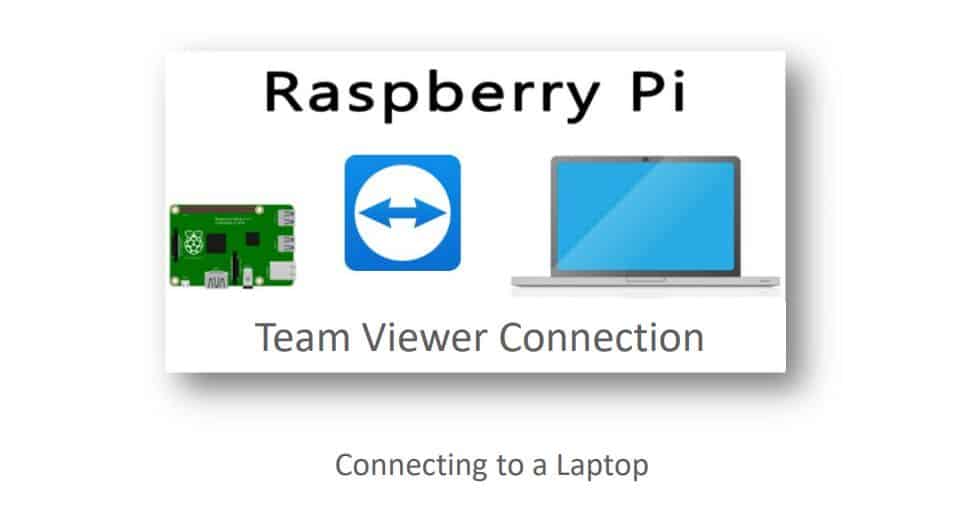 There are various ways to connect to Raspberry Pi. You can remotely access Raspberry Pi without plugging it into a monitor and other peripheral devices.
Below mentioned are two major ways in which you can access the Raspberry Pi through your laptop/desktop.
1. TeamViewer on Laptop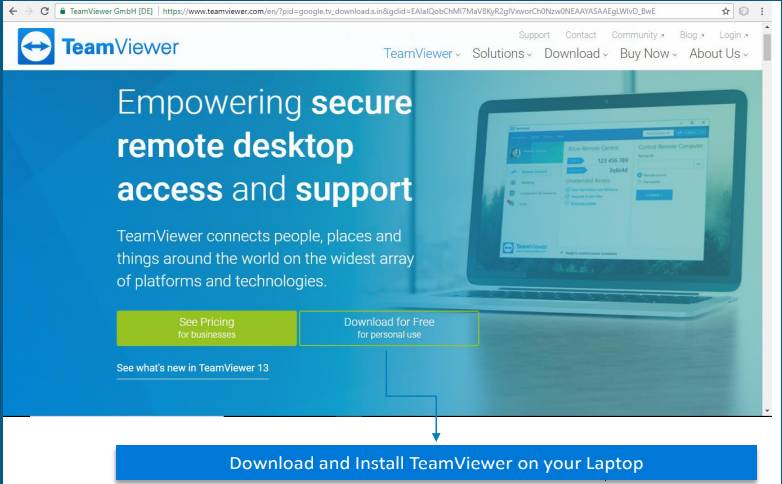 2. Downloading TeamViewer on Raspberry Pi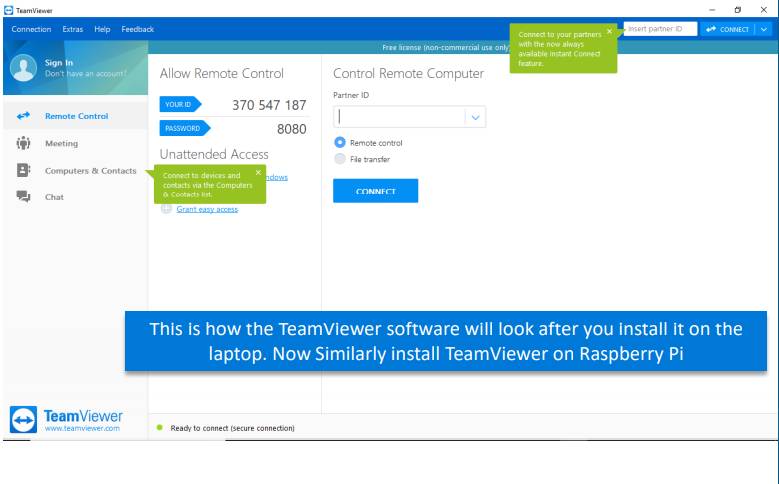 Connect your Raspberry Pi to Monitor and Download TeamViewer on it.
This is how TeamViewer will look once it's downloaded on Raspberry Pi. Note down your ID.
3. Configuring TeamViewer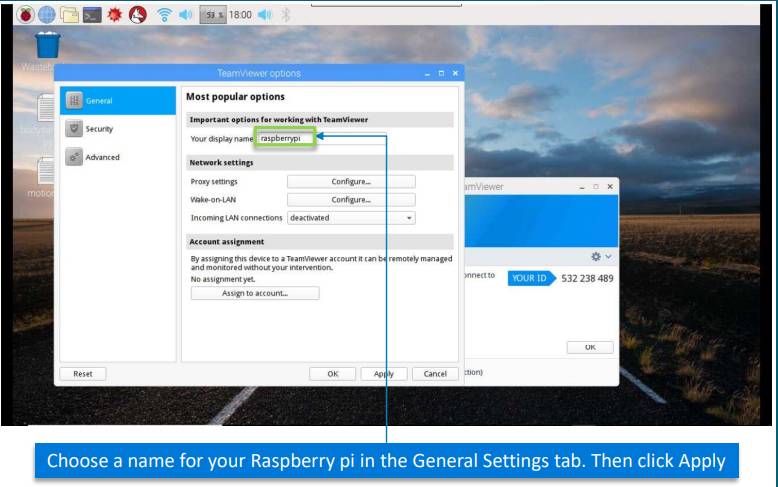 Choose a password for your Raspberry pi in the security settings tab. Then click Apply and then OK.
4. Connecting to TeamViewer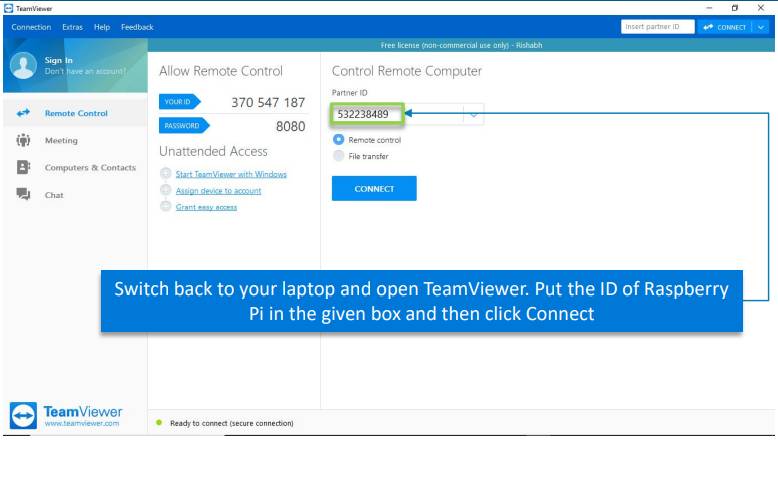 Provide the password you generated in this box and click Log On.
The connection will be initiated in TeamViewer and within few seconds you will be able to access the Raspberry Pi remotely.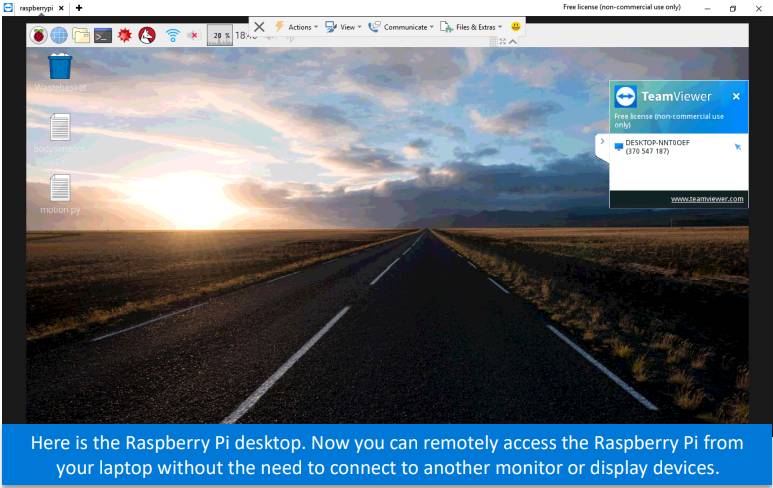 TeamViewer Disadvantages:
TeamViewer is not open for business and includes a license.
Sharing large files is impossible.
The proxy server is not in use.
The Internet connection must be fast and continuous.
Each device must have TeamViewer installed on the same version, otherwise, it will not work.
Machines can only be accessed if they are functional and usable.
The other system must be active and available to use it.
If the system enters sleep mode, you cannot use it. (To avoid this, you can change the sleep mode to "never")
If the system is used remotely in any case, you will not be able to access it through TeamViewer.
Also Read: What is Zigbee Technology? A Beginner's Guide
TeamViewer Advantages:
It helps a lot when u need to access a system and do work (ex: maybe access your system at the office from home) … or you want to help anyone do some work like installing or anything… or if u want to share files.
What is an alternative to TeamViewer?
Chrome Remote Desktop uses the Chrome browser and is easy and convenient to use. Basic functions, but works well.
LogMeIn used to have a free solution with many features, but I'm not sure if that's still the case.
However, I believe that in some circumstances some of these solutions cannot connect and some can. It is best to use several to maximize the chances of connecting.
It would be nice if someone could also add to this information about customers that is more reliable in all circumstances than either TeamViewer or the options I have named.
Also Read: What Is IoT Framework? Best Open Source IoT Framework