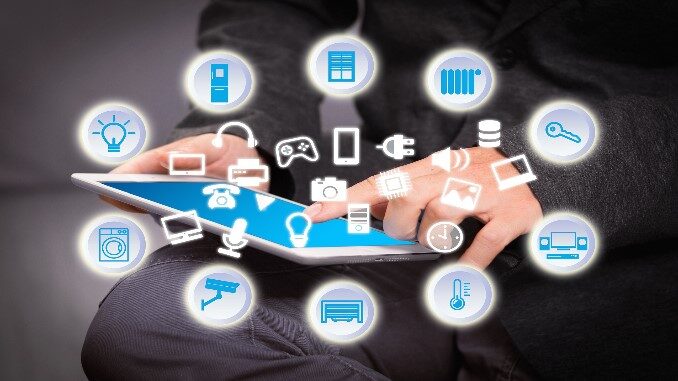 What is 6LoWPAN?
The name 6LoWPAN is derived from the Internet Protocol version 6 (IPv6) over Low power Wireless Personal Area Networks". It is a communication protocol that enables small, low-power devices to communicate with each other over a wireless network.
Compared to other IoT networks, 6LoWPAN is connecting more things to the cloud. The protocol was designed to work with small, resource-constrained devices like sensors, smart home appliances, and wearable technology.
How Does 6LoWPAN Work?
6LoWPAN works by encapsulating IPv6 packets into smaller frames that can be transmitted over a low-power wireless network. The protocol uses header compression to reduce the size of the packets, making it possible for small, low-power devices to send and receive data.
In addition, the 6LoWPAN protocol is made to function with other IoT networking standards including Bluetooth, Wi-Fi, and Zigbee. This enables seamless communication between 6LoWPAN devices and devices that employ various networking technologies.
6LoWPAN: IoT Properties
IPv6 packets can be efficiently transported within short link-layer frames, such as those outlined by IEEE 802.15.4, thanks to the 6LoWPAN adaption layer.
The use of an end-to-end, IP-based infrastructure facilitates open standards and interoperability. 
Low power, IP-driven nodes, and large mesh network support make this technology a great option for IoT.
6LoWPAN: Motivation behind 6LoWPAN Development
A sensor transfers little data compared to the usage scenarios of a Smartphone, PC, etc.
Sensors are likely to have restricted wireless connectivity.
A full unmodified TCP/IP stack might clash with hardware limitations (which are useful for power savings).
Using IPv6 instead of something proprietary allows the usage of existing and proven protocols driving the internet.
6LoWPAN: Network Architecture
Explanation of the diagram:
The uplink to the Internet is handled by the Access Point (AP) acting as an IPv6 router.
Several different devices are connected to the AP in a typical setup, such as PCs, servers, etc.
The 6LoWPAN network is connected to the IPv6 network using an edge router.
The edge router handles three actions: 
The data exchange between 6LoWPAN devices and the Internet (or other IPv6 network).
Local data exchange between devices inside the 6LoWPAN.
The generation and maintenance of the radio subnet (the 6LoWPAN network). 
By communicating natively with IP, 6LoWPAN networks are connected to other networks using IP routers.
6LoWPAN: System Stack Overview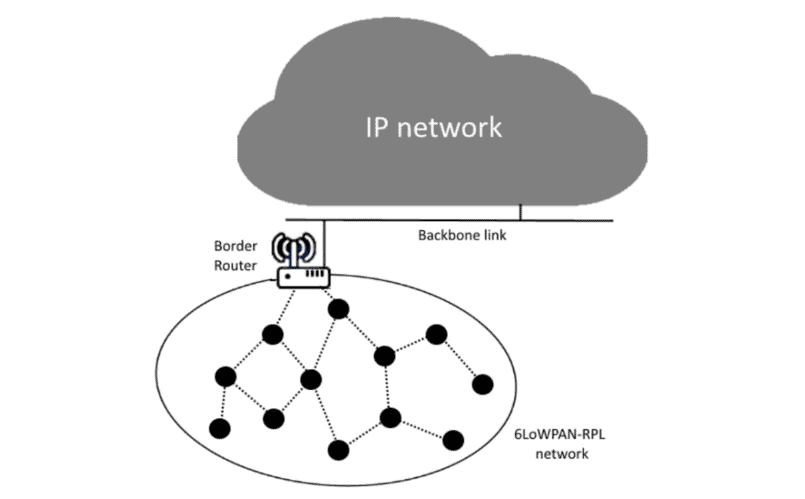 6LoWPAN radically changes the IoT landscape.
As discussed earlier, a complex application-layer gateway is needed to make devices such as ZigBee, Bluetooth, and proprietary systems connect to the Internet.
6LoWPAN solves this dilemma by introducing an adaptation layer between the IP stack's link and network layers to enable the transmission of IPv6 datagrams over IEEE 802.15.4 radio links.

6LoWPAN: The Future of IoT Networking
The way we live, work, and communicate is changing as a result of the Internet of Things (IoT). A more effective and scalable networking solution is required as the number of linked devices keeps increasing. Introducing 6LoWPAN, the newest advancement in IoT networking that has the potential to completely transform the market.
The Advantages of 6LoWPAN
Efficiency is one of 6LoWPAN's main advantages. In contrast to other networking technologies, 6LoWPAN is made to work with low-power gadgets, which lowers the energy needed for communication and extends the battery life of these gadgets.
A more scalable and effective communication protocol is also provided by 6LoWPAN. With the growing number of connected devices, traditional networking technologies are quickly becoming overwhelmed. A more effective option is provided by 6LoWPAN, which lowers network overhead and allows more devices to connect with one another.
The Future of 6LoWPAN
In the IoT sector, 6LoWPAN has the potential to overtake other networking technologies. It is the best option for integrating the billions of devices that are anticipated to be a part of the IoT in the upcoming years because of its efficiency and scalability.
The need for a more effective and scalable networking solution will only increase as more and more devices are connected. This demand may be met by 6LoWPAN, which offers an IoT industry solution that is future-proof.
FAQs About 6LoWPAN
How does 6LoWPAN differ from other IoT networking technologies?
Compared to other IoT networking technologies, 6LoWPAN is more effective and scalable since it is made to function with small, low-power devices.
Does 6LoWPAN work with other IoT networking technologies?
Yes, 6LoWPAN is designed to work with other IoT networking technologies like Zigbee, Bluetooth, and Wi-Fi.
What are the benefits of using 6LoWPAN?
Using the 6LoWPAN networking protocol, low-power, low-data-rate devices can connect with one another across a wireless network. It offers IP-based connectivity, low power consumption, cost-effectiveness, scalability, interoperability, and robustness. 
This protocol offers simple integration with current IP-based systems and is perfect for creating large-scale, inexpensive IoT networks. It offers a quick and affordable way to link lots of battery-operated or energy-harvesting Internet of Things devices. 6LoWPAN offers a reliable communication infrastructure for IoT networks by making it simple to integrate devices from many suppliers with its well-known IP-based infrastructure.
What is the future of 6LoWPAN in the IoT industry?
As the number of connected devices keeps increasing, 6LoWPAN has a promising future in the IoT sector and has the potential to overtake other networking technologies as the industry standard.
Also Read: What is Zigbee Technology? A Beginner's Guide